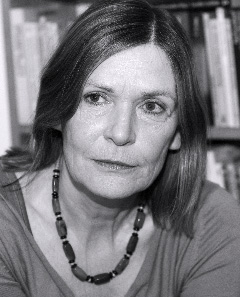 Ute Kettenburg was born in in a small village near Osnabrück. She became a teacher and, after the fall of the Berlin Wall, worked in Prague for two years. Later, she started writing. In April 2012, her short story "Trost des alten Herrn" was published by dtv in the anthology "Meine schönste Krise". Ute Kettenburg has three adult children and lives with her second husband near Hamburg.
In her novel "Mit anderen Augen" ("With different eyes") she tells the story of Ruth, a divorced woman in her forties. The emotional and attractive mother of two adult daughters leads a  largely independent and fulfilled life. But then, she starts looking for a new love on the Internet. At her first date with Paul, her dreams seem to become true. It takes Ruth a long time to realize that "Mr Right" is not willing to give her what she is looking for. With the next candidates, she repeats the same mistake, glossing over the behaviour of the others. This is a habit from her childhood, when she tried to protect the first man in her life: her father.
Throughout the whole novel, Ruth is accompanied by her best friend Uschi, who tries again and again to make her see things and men as they are. But only when Ruth finally takes heart to change her relation with her father, she finds the gateway to her own authentic feelings.
» Text in: Spanish