The Catalan author Maria Barbal has now been awarded with the Premi Josep Pla for her new novel "Tandem", which will be published in Spain by Destino.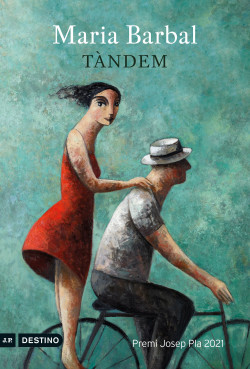 In the words of the author Tàndem is a story about happiness and second chances. Both protagonists, Elena and Armand, from the moment they meet, try to get rid of everything that traps them, the painful facts, the errors… recover their spontaneity, and understand that each one of them has to love themselves first in order to recognize the joy of the present. The story of Tàndem explores the human capacity to put aside thoughts and routine actions and to be carried away by life.
Maria Barbal is one of the most influential names on the Catalan literary scene. Her career as a novelist and short story writer began with the critically-acclaimed Stone in a Landslide (Pedra de Tartera, 1985), which quickly became a classic ofcontemporary Catalan narrative. The novel was translated into 15 languages. Barbal's contribution to Catalan literature has earned her numerous awards,including the Critics' Prize, the National Prize for Literature, the Serra d'Or Prize and the Creu de Sant Jordi, the highest medal awarded by the Catalan government.
We represent German and Dutch translation rights.
Don't hesitate to ask for further information and submission
» Text in: German