Shinrin Yoku by the bestselling authors Francesc Miralles and Hector García has been published in the Netherlands by Meulenhoff Boekerij.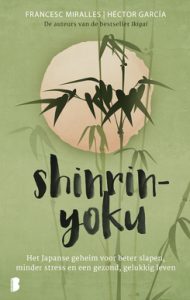 Human beings have always been intimately tied to forests, since they provide nourishment, shelter and spiritual serenity. Living in city labyrinths has pushed us all away from our truly natural habitat, and in turn, this has unleashed all kinds of disorders in our body and mind.
As the latest research studies have shown in Japan, the shinrin-yoku, or "forest baths" elevate the spirit and deactivate anxiety and stress, while they provoke very positive changes in every aspect of our daily existence.
This inspiring book is practical yet entertaining:  it shows us how returning to the forest can save our lives and bring us back to the path of happiness.
By the authors of IKIGAI – with more than 100.000 copies sold in the Netherlands since 1 year on the bestselling lists!
SvH Literarische Agentur represents the authors for German and Dutch translation rights.
» Text in: German