Spanish author Roberto Santiago was awarded the Fernando Lara Prize 2023 for his new thriller "La Rebellión de los Buenos"!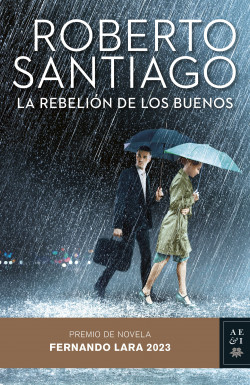 For the triumph of evil it is only necessary that the good guys do nothing.
Fátima Montero, owner of one of the most powerful pharmaceutical empires in the world, hires irreverent lawyer Jeremías Abi to handle her multimillion-dollar divorce. Wounded in her pride after learning that her husband and business partner is having an affair with an underage girl, she only wants to destroy him, but something very shady lurks beneath the assignment.
Abi, who has also been cheated on by his ex-wife and lives under threat, discovers terrible illegalities in the pharmaceutical company's methods: tests on human guinea pigs, extortion, blackmail and fraud.
He and his law firm are on the verge of bankruptcy, but his desire for justice exceeds all limits: they are ready to take on a multinational with long tentacles, even if it means looking directly into the eyes of evil.
Launched in Spain by Planeta on 14th of June 2023
We represent German and Dutch translation rights
» Text in: German