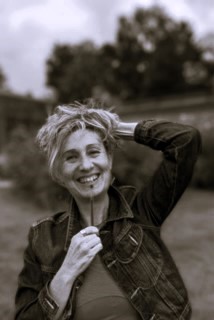 (c) Foto Thomas Ickstadt
Elena García Quevedo is an author, journalist and screenwriter.
She was born in Nava de Roa (Burgos), in the heart of a rural world on the verge of disappearing. Growing up in a rural area shaped her view of things, as did her doctoral thesis on "mythology and cinema" or the beginnings of her professional career as a correspondent in the Middle East – Jerusalem-, where she is directly confronted with war.
She works with media such as El Pais. She writes about human evolution for Geo. And she is the scriptwriter of award-winning documentaries such as "Invierno en Bagdad" (awarded the Biznaga de Plata at the Málaga Film Festival) "Invisibles" (Goya for best documentary) or "Hijos de la Tierra" (draft script, Goya for best documentary short film) as well as consultant for the scripts of the following films "Planes para mañana" (Biznaga de plata for best screenplay debut) and "La vida era eso".
Her play "El olor del café" (The smell of coffee), is about the true friendship between two Jewish women and a Palestinian family seeking peace.
Her work and life are characterised by a connection to rural regions, female memory and joy, journeys to places and people that preserve roots, and resilience. García Quevedo addresses the most important challenges of our time with an adept, multi-faceted and overarching view.
She is the author of "Voces sabias" (Paidos) and "La voz de los sabios" (Luciérnaga); "Viajes que despertaron mis 5 sentidos", "El viaje de las mujeres" as well as "La tejedora de vidas", whose opening story "La tejedora de los hilos del alma" has gone around the world online.
Her illustrated children's story Luz, la niña chamán, is the basis for the animated film of the same name currently in production.